In

Give Me My Robe, Put On My Crown  Nicola Lane celebrates the talents and creativity of 4 women students successfully graduating from Clean Break's 2005/06 Access to Theatre in the Community course, where each woman had prepared two audition pieces, one selected from Shakespeare and one from a contemporary playwright. The title comes from one woman's performance of Cleopatra's speech from Shakespeare's 'Anthony and Cleopatra':

Give me my robe, put on my crown: I have immortal longings in me… 
The women worked with Nicola and a professional make-up artist to represent the look and the persona they felt most expressed their characters. Using digital video, Nicola filmed the women performing straight to camera in head and shoulders close-up, with photographer and lighting designer Stuart Wellburn lighting the performances to reflect and enhance each characterisation.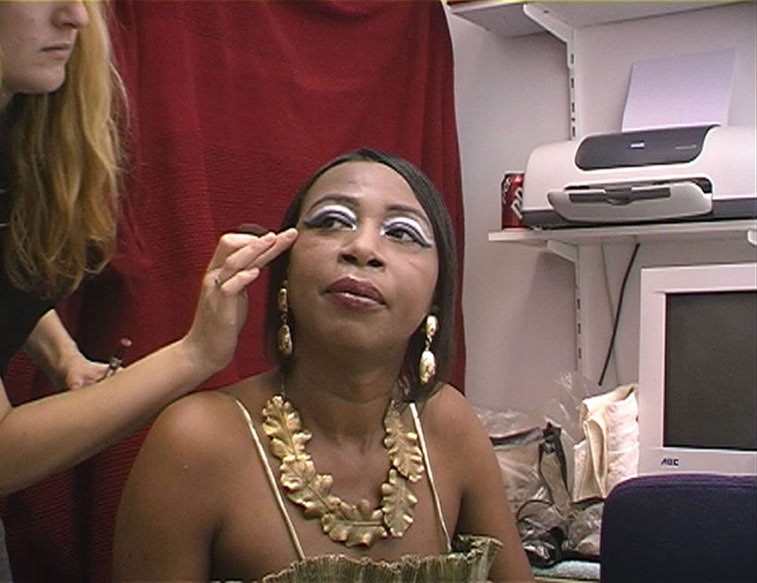 Nicola edited the individual performances side by side in split screen, presenting the women both as individuals and as a group, the speeches edited as a dialogue between past and present, positive and negative, vulnerability and strength. 
Give Me My Robe, Put On My Crown
Colour / DV
Runtime: 30 mins
Director & editor: Nicola Lane
Lighting designer & cam
era: Stuart Welburn
Lighting Assistant: Yvonne Redway
Make-up design & advisor: Claudine Henderson
Make-up team: Reniece DuBois & Patrizia Carlotta
Production: Sarah Nixey & Samantha McNeil
Composer & sound mix: Louis Morand
Performance tutors: Anna Ziman & Tessa Walker