Nicola's piece,

Family Histories,

aimed to engage the public with Thessaloniki's ancient and cosmopolitan history, the arrivals and departures of many cultures and people, its countless histories of migration and emigration.
Working with family group photographs from archives in the

Museum of Photography of Thessaloniki

, Nicola selected a 1919 photograph of a refugee family group as an icon for those millions of families who leave their land and their cultures for a new life.
This photograph is a portrait of a Greek refugee family from

Asia Minor in 1919

, the first year of the 'Population Exchanges' of the

Greco-Turkish War

. The family pose in front of a backdrop painted with dark clouds, turbulent sea, battleship and war planes. Most of these refugees were repatriated; but in 1922 they were either killed, or escaped and returned again to Greece. Their escape route was the same one as today, with Lesbos the first island in their journey. 
"This makes me think about how family photographs represent memories and reinforce identity, how they are used as illustrations of family history, to supply continuity and context. I read that American photographers in the early Twentieth Century made a good living supplying formal studio photographs of immigrant families, of groups, new arrivals and also deaths, to be sent to those remaining in the 'old country'.
The family group is still a constant in contemporary family photographs, the different generations still posed in the same way. Their gaze is always directed outward at the spectator; but they are gazing at themselves in the future.

.."
For the installation in Aristotle Square Nicola proposed a life-size enlargement of the refugee family group, with the faces cut out , as in those painted backgrounds found in fairgrounds and sea-side resorts, where the public play with their identity, and are photographed as strong men, or astronauts, or beauties in bikinis. The public are invited to play with the image.
A trail of the absent faces led to

Family Histories: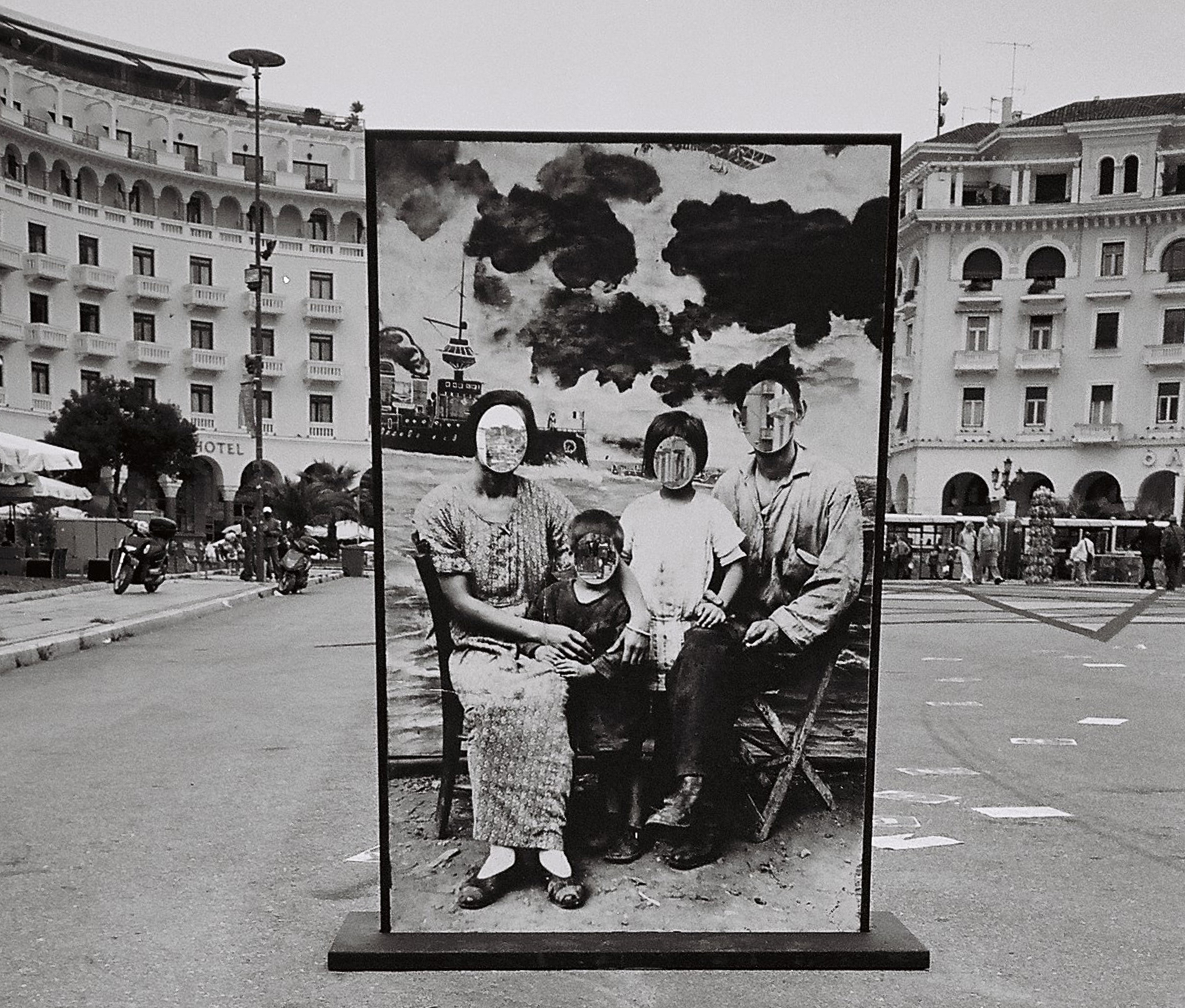 On September 19th 2008

Culture Coup

opened with a piano recital in Aristotle Square, with Benjamin Lee Martin's magazine tower, Nicola's

Family Histories

and Martin Pfeifle's SPLASH

installation.
Culture Coup

took place in September 2008 just as Lehman Brothers collapsed. It was an important moment to be making art in Thessaloniki, with history about to repeat itself in so many ways.