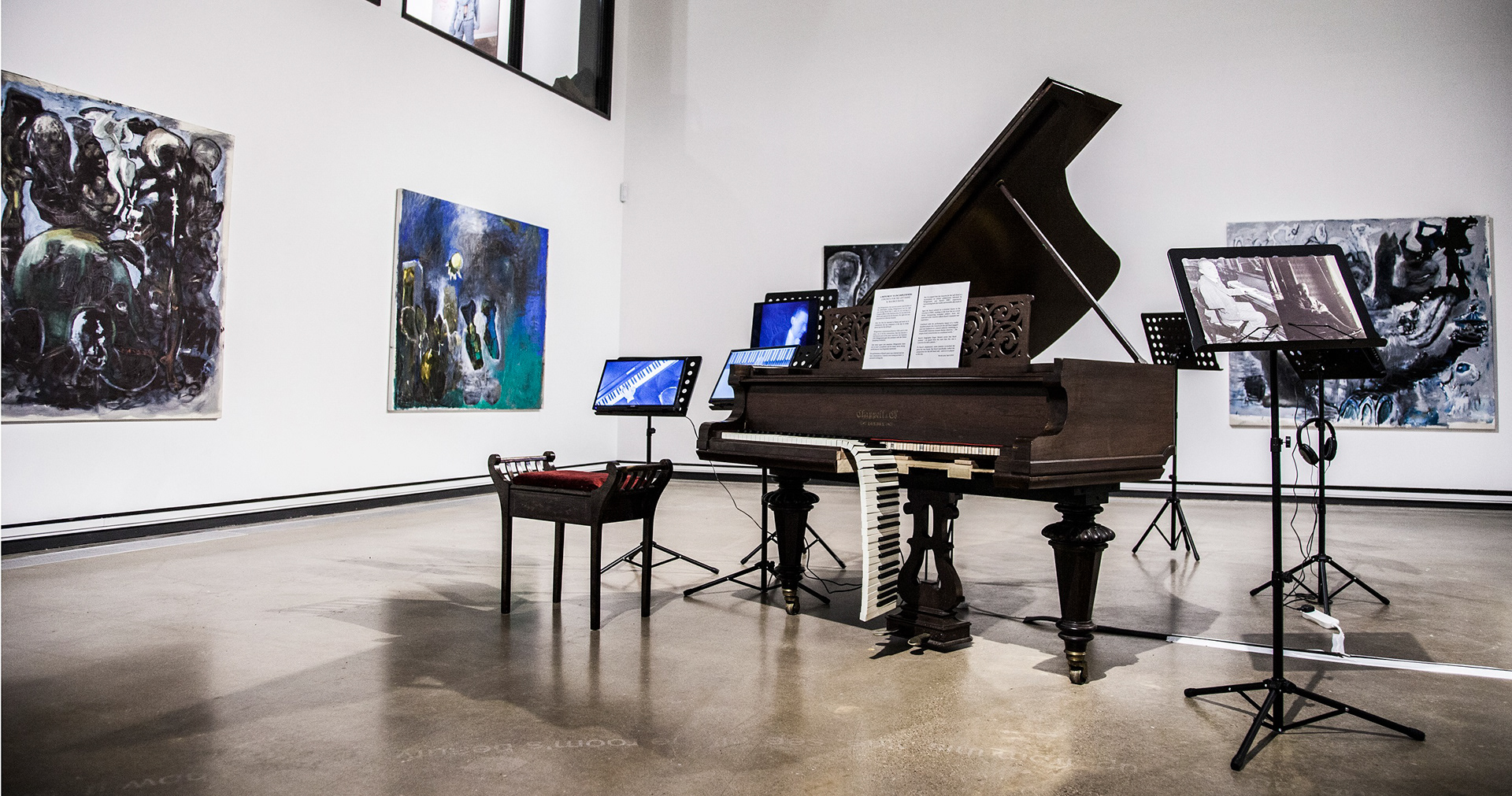 In Out There

showcased the enduring influence of renowned disabled artist and activist

Adam Reynolds

and celebrated the tenth anniversary of Shape Arts' flagship arts award, the 

Adam Reynolds Memorial Bursary (ARMB).
Curated by Fiona Slater, the exhibition 
featured newly commissioned work by 2018's ARMB recipient

Terence Birch

, together with new work by the shortlisted artists 

Nicola Lane, Catherine Cleary

and

Sarah Carpenter.
For

In Out There

Nicola re-created and developed 

her 2000

Monument to Incompleteness#6: Ravel's Concerto for the Left Hand using a Grand Piano, the instrument for high profile public performance, representing the role of performance in many disabled people's lives - the performance of 'normality'- and the disabled artist "Out there" in the spotlight.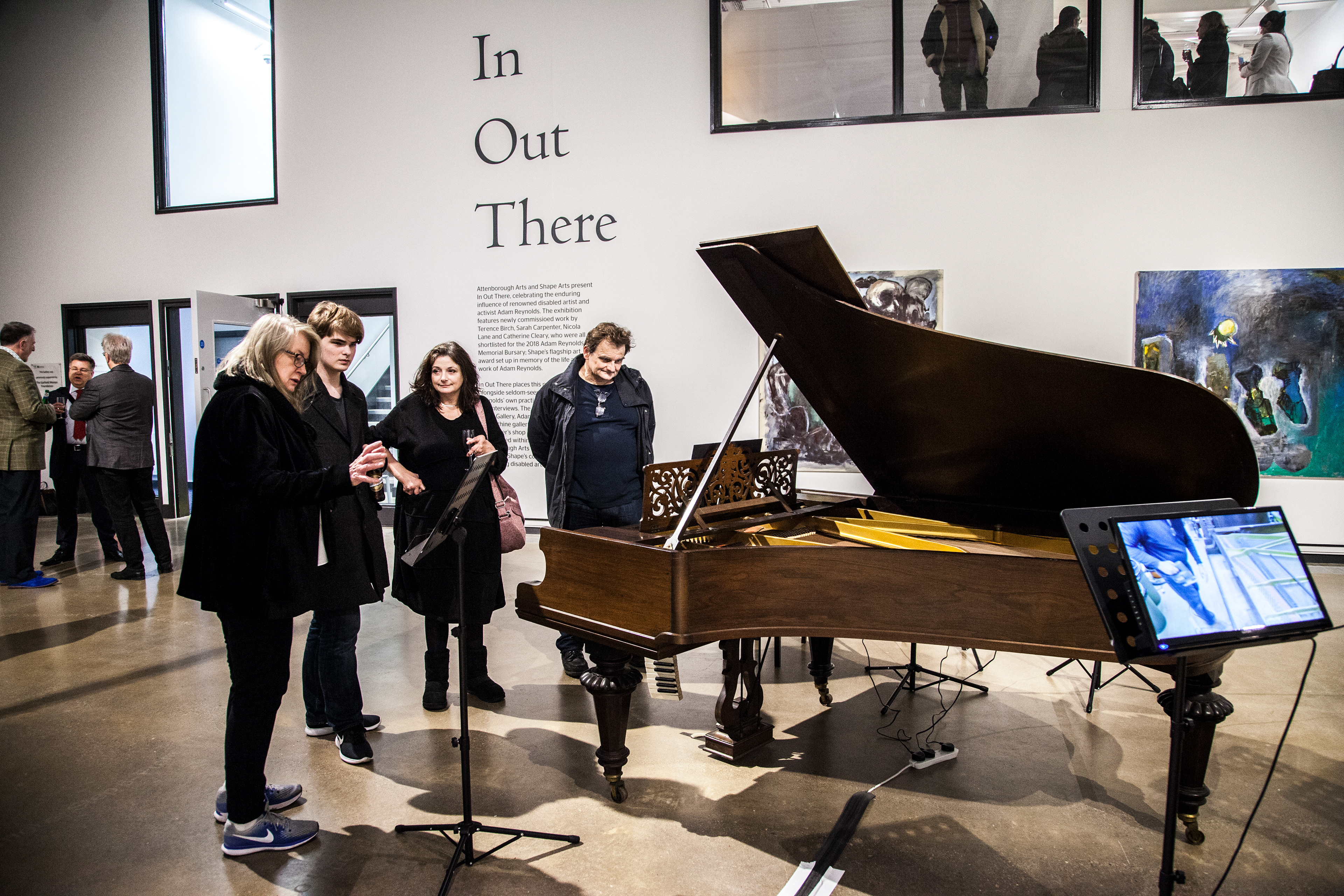 A Monument to Incompleteness:
Paul Wittgenstein

(brother of Ludwig) was an Austrian pianist who lost his right arm in  WW1 and commissioned top composers of the day to create pieces just for the left hand. In 1930 Wittgenstein commissioned Ravel; and it is Ravel's

Concerto for the Left Hand,

out of all Wittgenstein's commissions, that has become an important and highly regarded piece.
In 2000 Nicola created 

Monument to Incompleteness #6: Ravel's Concerto For the Left Hand

 for Nottingham Castle Museum's 'Vital' festival. She intercepted an old upright piano on its way to landfill (the usual destination for old pianos) and cut the right side of the keyboard to dangle like an empty sleeve. Wittgenstein, like so many upper arm amputees, chose not to wear a prosthesis and his empty sleeve during performances was frequently mentioned.
Wittgenstein's performance of Ravel's piece was criticised and dismissed as "a heroic overcoming narrative", a spectacle inviting pity. But it is universally agreed that the

Concerto for the Left Hand

is a masterpiece; rather than a 'heroic overcoming narrative', the Concerto is an artistic collaboration informed by Wittgenstein and Ravel's WW1 experiences, representing both the visible and invisible aftermath of war.
Ravel, aged 40, had enlisted as a stretcher bearer in the trenches of WW1, working on the front line as a truck driver transporting wounded soldiers. The Concerto includes sonic war material, reflecting Ravel's traumatic experience of the atrocities of war. This, combined with the performative impact of a visibly disabled pianist, engaged audiences in a shared catharsis; 
representing, as French WW1 historian Annette Becker observes, "...the utopia of a resurrection of art in a mutilated world…" 
Biographer Roger Nichols wrote that Ravel wanted "…to quash from the start any notion that this was a Concerto for half a pianist..." To Ravel's displeasure, some pianists re-worked the piece for two hands. But Ravel specifically crafted the composition for the left hand only - and so it is played to this day.
Music stands displayed text, images, audio and video; including video and recordings of Wittgenstein performing the Concerto in 1938.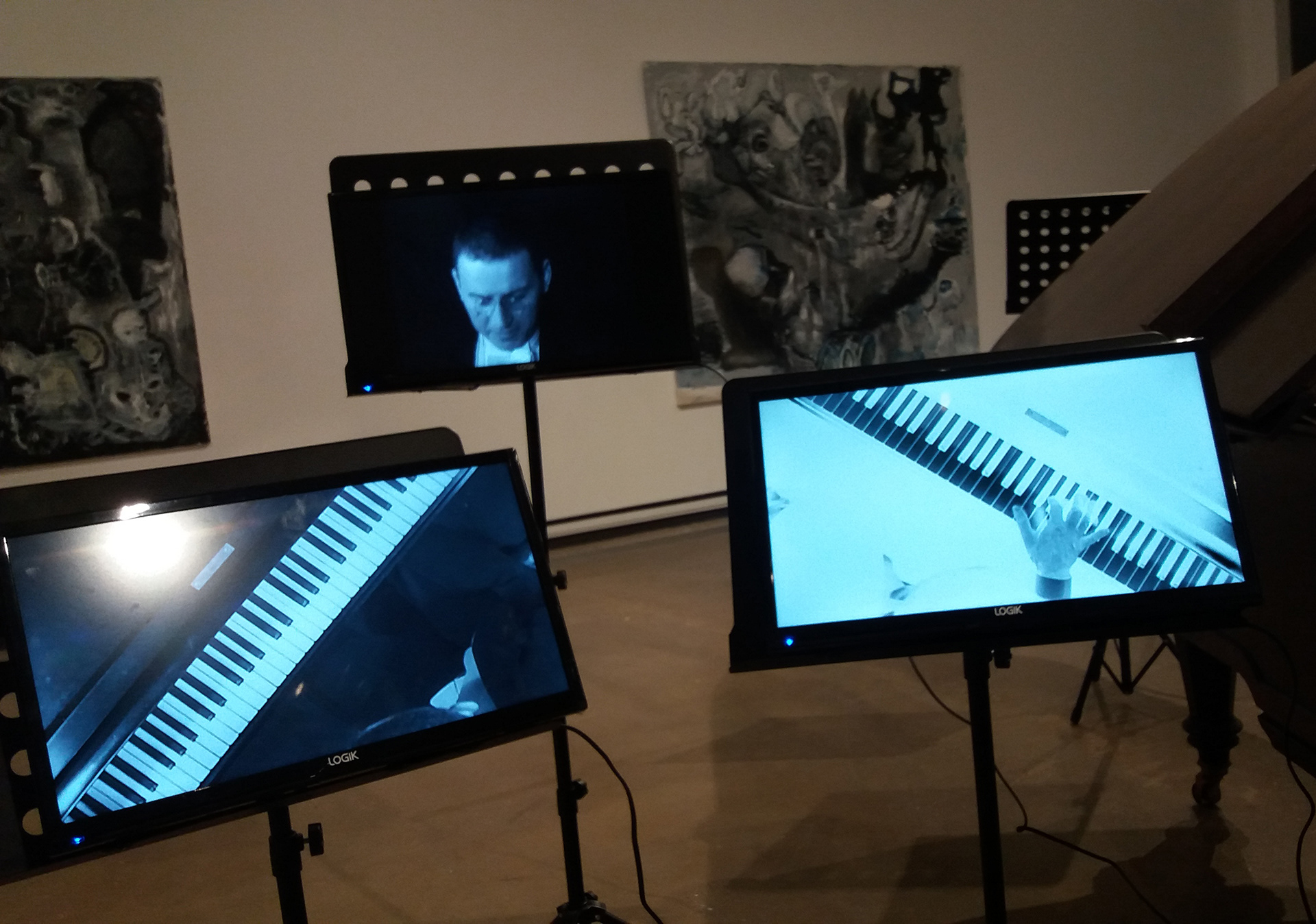 Nicola Lane's documentation of creating
Monument to Incompleteness#6: Ravel's Concerto for the Left Hand

in collaboration with

Marksons Pianos

will be uploaded soon. Thank you for your patience.