As part of Camden Council's pop-up shop project bringing vacant council-owned retail spaces into use for local artists, start-ups and entrepreneurs, Nicola was allocated 18 Malden Road in Kentish Town in which to create her

SPIRIT HOUSE

project, from February 12th until March 20th 2017.  SPIRIT HOUSE

was

 curated in cooperation with

Holborn Library Archives

,

Geddes Gallery

, and local organisations. 
"Many of my recent projects are searches for meaning in archives and memory. 

SPIRIT HOUSE

is inspired by my childhood memories of living in Bangkok, where every property has a 'Spirit House'. I recently discovered a family photograph from 1953, where I am standing with my playmates at the back of our house, with a little Spirit House visible in the corner. Another Spirit House belonging to the house next door is visible behind the fence above our heads."
"These miniature temples are shrines to protective spirit of place and shelters for the 'Guardian Spirits of the Land',

 

in the belief that human beings should be respectful, and make sure resident spirits have a shelter to go to after being displaced. Votive offerings are left at the house to propitiate the spirits, and new Thai landowners will leave existing spirit houses intact and build a new one alongside. Often you can see a demolition site where all that remains is a solitary spirit house."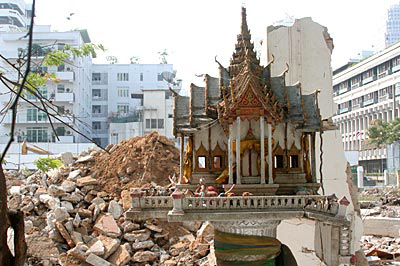 " I transformed 18 Malden Road into the
SPIRIT HOUSE, 
a shelter for community memories and spirits of place. The woodwork was painted gold to evoke the 'priceless' value of community memories and the shop windows subverted estate agent iconography with estate agent displays of
collected memories and local archives from Holborn Library.
Passers by and the local community were invited to bring memories and photos for evolving displays."
The following images document

SPIRIT HOUSE

 throughout its evolving collaborations, film screenings, installations & exhibitions.
"I was privileged to work with local theatre company

Clean Break,

 sharing the ideas informing

SPIRIT HOUSE

with their Performance Group and tutor Sophia Shaw. We focused on exploring creative responses to change, from which the students devised a performance piece titled 

DISPLACED MEMORIES  

- performed in the

SPIRIT HOUSE

on March 7th 2017. "
After discovering artist

Tinsel Edwards'

subverted estate agent signs and interiors inspired by property publicity, Nicola invited Tinsel to participate in

SPIRIT HOUSE.

 Tinsel created a new series of paintings which were displayed in the estate agent-style display in the window.
Local filmmaker Anna Bowman was invited to screen her 4 short films revealing great characters and important moments in Kentish Town's history, during the repeated development and redevelopment of the last 160 years. Titled

Eventful Times in Kentish Town,

the screening also included a film brought to the SPIRIT HOUSE by a local resident,  made by the

Talacre Action Group

in 1971.
The screening was packed, inside and out. The films had to be screened twice to accommodate the audience.
Nicola invited the participation of photographers

Jonathan Langren

and

Gordon Cooper

 who had both been involved in the

London Film Makers Co-op

when it had been active in Prince of Wales Crescent  during the early and mid 1970s.
Gordon Cooper's photographs of

Prince of Wales Crescent

taken just before demolition in 1975 were the final display, together with the 1971 film of the

Talacre Action Group

:
Throughout

SPIRIT HOUSE's 

tenancy

 

of 18 Malden Road, e
volving community interactions, displays, installations & events created a space for meaningful public engagement and dialogue between the area's past, present, and future.

A big thank you to everyone who generously shared their memories. 
Watch Anna Bowman's film created for the SPIRIT HOUSE: