THE FITTING ROOM

narrative was developed through a process of participation and collaboration. A limited budget and the need to accommodate and respect a hospital setting meant there were constraints and challenges. 
The subject of prosthetics and the experience of amputees is very complex. Nicola and her film crew needed to discover a film language that would be achievable within a tight budget and would communicate this complexity to a wide audience. Cinematographer Joni Juutilainen, Assistant Director Marga Doek and Nicola decided to frame and contain most of the action within the fitting room's line of chairs - where the Fitting Room Friends wait for their prosthetists and which acts as both the stage and the audience for their dramas. 
When filming a fitting session with the prosthetists, the POV was reversed - to try and share the women's experience as much as possible by turning the camera and the audience's gaze away from the patient onto the clinician.
Joni Juutilainen was unable to light the fitting room scenes as he wanted, because space was limited and filming had to be as unobtrusive as possible. But for scenes outside the fitting room Joni was able to create lighting that enhanced atmosphere and image.
The women worked with Nicola to devise sequences that represented aspects of their personal experience of prosthetics, body image and limb loss. In the image above, clothes that Michelle can no longer wear after her amputation are laid out on her bed.  The light in the room was boosted by reflectors outside the window.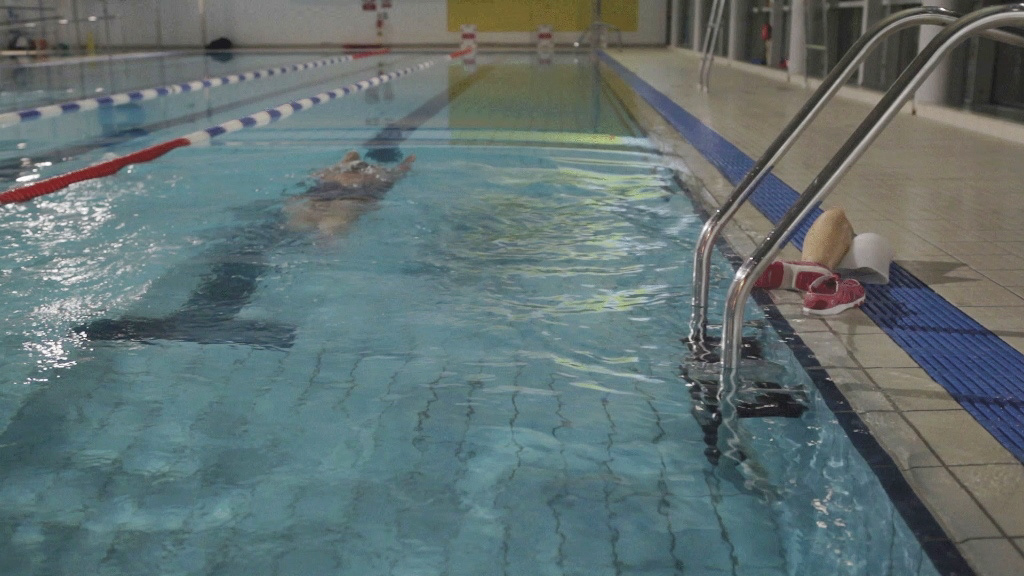 Lighting also enhanced the swimming pool scenes at the Aspire Centre on the RNOH site, where the women explored their issues with swimming and staged a Fitting Room Friends synchronised swimming sequence.
Memories of bare legs and freedom in the summer were represented by Assistant Director Marga Doek as the girl in the tree, shot in the old apple orchards of the hospital site - all that remains of the estate surrounding the house that was turned into a hospital during World War 1. 
Carefully composed and lit, the shot below came about after the women discussed the impact of wearing a prosthesis on family life. After a long day, Michelle chooses to relax at home by taking it off to watch TV.
Director & editor: Nicola Lane
Assistant Director: Marga Doek
Cinematography: Joni Juutilainen
Sound Recordist: Xan Marquez
Additional sound recording: Liam Cotter, Valerio Cerini
Sound mix: Louis Morand
Music: Tito Heredia
For more information about
THE FITTING ROOM
project go to: